The areas Jazz specializes in are Technology, Human Services, Education, and Arts Organizations.
Working within these parameters, Jazz can help facilitate organizational changes and transitions, corporate culture transformations, and organizational re-engineering.
What we actually do is look at an organization's vision and values, then help you re-align them with your goals and objectives.
We begin this process by interviewing key voices in your organizations. Then, supported by the information we've gathered, we feed the information back to the organization, and together we decide the next step that best fits your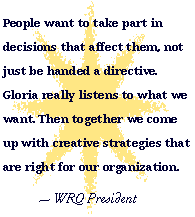 organization's needs.
Clients usually hire consultants to do something specific, such as designing a new program or helping to improve performance in some area. And all too often, the solution doesn't address the root issues and ends up misusing human resources, time, and money. That's why we start by listening to your key voices and inquiring deeply before implementing any solution.